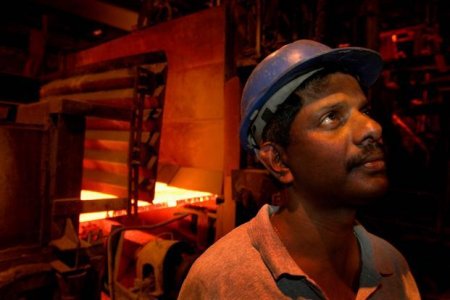 JSC «Uralelektromed» is an enterprise of the metallurgical complex of UMMC. In his shop, acceptance and processing of raw materials running new equipment. This new stationary crane installation. She produced the Russian company «the velmas». For a week she managed to process more than 200 tons. We are talking about waste of non-ferrous scrap. The hydraulic manipulator is installed instead of the former, which is already out of date. The previous one is completely worn out.
Thanks to the new installation has increased the level of productivity of the enterprise. The same applies to production efficiency. We should also mention the improvement of working conditions. The manipulator consists of several elements. First of all, this boom, which has a maximum reach of 8.5 metres. Then go petal grab, hydraulic power unit and the cockpit control of the press operator. Capacity of plant is 3 tons of scrap. This is a minimum reach. At maximum it amounts to 1 ton. Performance at any one time reaches 0.2 sq m of non-ferrous metals.
The new equipment is the main feature. This rotator of the grapple. The capture Lomov «fangs» he is spinning on its axis. This allows you to get rid of excess residue. Thus, accurate download of the scrap in the press. The response time is reduced. This allows to increase the productive efficiency. The press operator is in the cab of the manipulator. He leads the loading of the scrap and at the same time remotely controls the press. For this there are two joysticks and pedals. He grabs a handful of scrap, and put it in a special loading chamber. Then after pressing the remote start button press creates briquettes.