1.4903 tube, wire, circle X10CrMoVNb9-1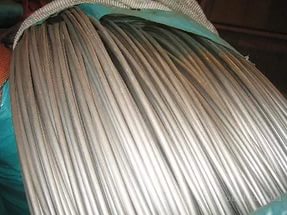 Percent composition X10CrMoVNb9-1 (1.4903) EN 10302-2008

| C | Si | Mn | P | S | Cr | Mo | Ni | V | Nb | Al | N | Fe |
| --- | --- | --- | --- | --- | --- | --- | --- | --- | --- | --- | --- | --- |
| 0.08-0.12 | <0.5 | 0.3-0.6 | <0.025 | <0.015 | 8.0-9.5 | 0.85-1.05 | <0.4 | 0.18-0.25 | 0.06-0.10 | <0.04 | 0.03-0.07 | basis |
Increased wear resistance and immunity to corrosion breakdown. Product withstands operation at elevated temperatures (up to 850°C). Rp0.2 0.2% strength (+QT) 450 MPa. Min. elongation at break 18-20%.
Mechanical properties (temperature 20°C)
| | | | |
| --- | --- | --- | --- |
| Nominal thickness (mm): | up to 60 | 60 - 150 | 150 - 250 |
| Rm - tensile strength (MPa) | 580-760 | 550-730 | 520-700 |
| ReH - yield strength for permanent deformation (MPa | 445 | 440 | 435 |
This is a heat resistant alloy. Increased resistance to sulfur in an oxidized environment. This is characteristic of alloys with reduced nickel content in the composition.
KV - Exposure to energy (J) transverse, (+NT)
-20°
27
0°
34
+20°
27-40
KV - Impact energy (J) longitudinal, (+NT)
+20°
40
Supply
The supplier of stainless steel alloys provides certified products. Technical documentation has all data regarding chemical composition, percentage of impurities, mechanical properties of stainless steel bars. Here you can buy stainless tubes, wires, rounds at an adequate price. You will be satisfied with the quality and price of stainless steel alloys. For wholesale customers we offer stainless steel alloys with a discount.
Certification
All products from our company have been certified. Technical documentation contains data on the composition, mechanical quality and impurity content.
Buy, price from the supplier.
Pipe, wire, round 1.4903(X10CrMoVNb9-1): from supplier Evek GmbH you can buy wholesale or retail. The site reflects the price and range of products to date. Excellent product quality and adequate price is the face of supplier Evek GmbH. Regular customers can buy titanium tubes, wires, rounds 1.4903(X10CrMoVNb9-1) by taking advantage of Evek GmbH discount system. Delivery is from warehouses located.