The precision pipe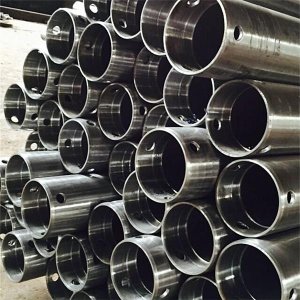 Percentage composition
| Alloy | C | S | Mn | P | S | Cr | Mo | Cr+ Mo+ Ni Max% | A |
| --- | --- | --- | --- | --- | --- | --- | --- | --- | --- |
| E235 | ≤0,17 | ≤0,35 | ≤1,20 | ≤0,025 | ≤0,0250 | - | - | - | 0,020 — 0,060 |
| E255 | ≤0,21 | ≤0,35 | 0,40−1,10 | ≤0,025 | ≤0,0250 | - | - | - | 0,020 — 0,060 |
| E355 | ≤0,22 | ≤0,55 | ≤1,60 | ≤0,025 | ≤0,0250 | - | - | - | 0,020 — 0,060 |
| C35E | 0,32−0,39 | ≤0,40 | 0,50−0,80 | 0,035 | ≤0,0350 | ≤0,40 | ≤0,10 | 0,63 | - |
| C45E | 0,42−0,55 | ≤0,40 | 0,50−0,80 | 0,035 | ≤0,035 | ≤0,40 | ≤0,10 | 0,63 | - |
Technical characteristics
Supplier of precision pipe offers products made of steels 45, 40, 35, 20,10, E235, E255, E355, C35E, C45E. 30KHGSA. These types of pipes have high mechanical strength, wear resistance, resistant to moisture, industrial gases. Manufactures pipes according to the special technology of cold rolling.
Alloy C35E — 1.1181.
Yield strength: > 300 MPa
Rupture strength: 500 — 650 MPa
Elongation: > 20%
Job blow KV at 20°C: > 27 j
Applications
Supplier of precision tube recommends these products for pipelines, as a material of this type increases their performance. It is used as a component for highly reliable designs. Used precision pipe can be used as secondary scrap.
Supply
Buy precision pipe on our website. All products from our company passed the certification. In the technical documentation included data on composition, mechanical quality and content of impurities.
Buy price from the supplier

Buy precision pipe from the supplier Electrocentury-steel can wholesale or retail. On the website reflected the price and mix of products to date. All products are certified and meet the highest standards. Excellent product quality and reasonable price — face provider Electrocentury-steel. Regular customers can buy precision pipe, taking advantage of the discount system of discounts from the company Electrocentury-steel. Delivery is carried out from warehouses located in Russia and Ukraine.