Titanium, titanium products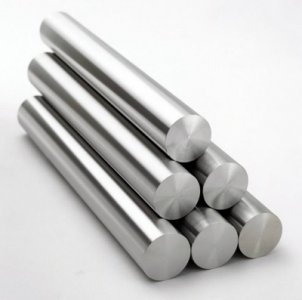 This element was discovered in 1789, but for long time was considered due to impurities to be weak material and was not used anywhere. Purest titanium obtained in 1925 turned out to be very practical metal with many valuable properties. Engineers and designers immediately found application.
Properties
Titanium is endowed with low density, high specific strength, very high resistance to corrosion, does not lose strength at extreme temperatures. He became basis of rocket science and modern aviation. Light and durable titanium alloys retain their qualities at temperatures up to 500 °C, when aluminum or magnesium alloys are no longer functional, and steel and nickel alloys are inferior to them in specific strength.
Due to its resistance to corrosion, titanium is widely used in chemical industry. However, it should be noted that welding process is difficult, because of tendency to easily oxidize in hot form. When welding, it is necessary to protect from exposure to atmospheric gases not only molten edge of seam, but also all heated metal. Nowadays, arc welding in argon atmosphere, electron beam welding and contact welding methods are successfully used.
Relevance
Titanium alloys, as you know, were first used to create jet engines, which allowed them to reduce their mass by 15−20%. In particular, it also makes compressor parts, parts of guide apparatus and all kinds of fasteners. Today's market can offer titanium and titanium raw materials at very decent prices, although earlier price of titanium rolled was extremely high. It has rare combination of characteristics:
— compared to aluminum in conventional aircraft;
— as material for supersonic aircraft, compared with nickel-chromium alloys.
Hull structures made of titanium allowed creation of unique submarines. Titanium is metal that allows you to lighten specific gravity of any product. In modern aviation, rocket, shipbuilding production — from it they create bodies, parts of wings, engines, which is optimal solution for replacing metals that are not working in such areas.
General characteristics
Titanium is light silver metal, element number 22, group IV of periodic system of Mendeleev. Titanium is light silver metal, element number 22, group IV of periodic system of Mendeleev. Gregor and german chemist Klaprot. Already at that time titanium was dubbed «metal of future», it possessed such extraordinary qualities. Its strength is akin to strength of damask steel, while it is much lighter than other metals, resistant to corrosion and aggressive media, easily forged and stamped. Its corrosion resistance is higher than that of noble metal alloys, and its low specific gravity is comparable to aluminum. Low creep of titanium is similar to stainless steel, and extensibility and ductility — at level of copper. It retains its qualities from -250 °C to t° red-hot steel. Exceptional specific strength, wear resistance, heat resistance — made it an indispensable material at forefront of science and technology of XXI century.
Physical characteristics of titanium
| | |
| --- | --- |
| Description | Designation |
| Data acquisition temperature in °C | 20°С |
| Density in [g/cm3] | 4,45 |
| Coefficient of linear thermal expansion αx106 at 100 °C [1/°C] | 8,2 |
| Elastic modulus of first kind, E [MPa] x10- | 1,12 |
| Coefficient of thermal conductivity, l [W/(m • deg)] | 8,37 |
| Specific heat of alloy C at 200 °C [J/(kg • deg)] | 0,586 |
| Electrical resistivity, Ohmxmm2/m | 1,6 |
Production
Main method for producing titanium is reduction of TiCl4 at high temperatures with sodium or magnesium. Hot titanium easily reacts with atmospheric gases, so main goal of production technologies is to minimize contact of hot metal with N2, O2, H2. Main disadvantage is high cost and energy intensity of process. In metal science, titanium alloys are classified according to configuration of crystal lattices: β-state (in form of cube), α-state (in form of hexahedron) and α + β (mixed state). According to processing method, alloys are divided into foundry and deformable.
| | | | |
| --- | --- | --- | --- |
| Titanium rolling | Diameter, mm | Length, mm | Width, mm |
| Circle | 8−30 | 500−5000 | |
| Wire | 0.5−6 | Unmeasured | |
| Sheet | 700−2000 | 700−1000 | 0.3−15 |
| Tube | 12 — 300 | 1000−5000 | 0.5−6 |
Note: pipe weight up to 200 kg
Storage
Titanium hire is stored in covered warehouses or under canopy, where adequate protection against mechanical and other types of damage is provided.
Application
Alloys for rocket science and aircraft are produced on basis of titanium. Lightness and heat resistance of titanium allow its use in manufacture of thermal equipment. It is in demand in cryogenic industry because it maintains high ductility and strength in extreme cold conditions. Most critical parts for shipbuilding are made from titanium alloys, including hulls and propellers of submarines. Its biological inertness makes it possible to create structural materials for reconstructive surgery and use in food and pharmaceutical industries. Inertness of titanium is important for creation of surgical instruments and prostheses in orthopedics, dentistry. Bulletproof vests and elements of modern design are made from titanium. Despite high price, its use is economically justified by lightness, strength, durability.
Buy at bargain price
Wide range of high-quality titanium products is always available at warehouse of LLC Elektrovek-steel. We sell wholesale and retail products at best prices. Quality is guaranteed by strict adherence to standards and production technology. Technical documentation contains data on chemical composition of products, maximum percentage of impurities and mechanical properties. Products undergo ultrasonic inspection for defects. Consultations of experienced managers will help you make choice. Orders are carried out — as soon as possible. Wholesale buyers are provided with preferential discounts.