VT6S titanium round bar, sheet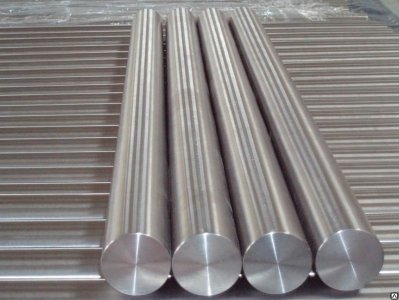 Technical characteristics
Titanium this brand belong to the group α+β alloys. Legarrette alloy 6% Al + 4% V,. Aluminum is able to consolidate the α+β phase, the vanadium contributes to the stabilization of β-phase and impedes the formation of superstructure alpha-2 in α-phase…
The percentage VT6S
| Fe | C | Si | V | N | Ti | Al | Zr | O | H | Impurities |
| --- | --- | --- | --- | --- | --- | --- | --- | --- | --- | --- |
| ≤0.25 | ≤0.1 | ≤0.15 | 3.5 — 4.5 | ≤0.04 | 87.86 — 90.9 | 5.3 — 6.5 | ≤0.3 | ≤0.15 | ≤0.015 | ≤0.3 |
Titanium alloys. Specific gravity is 4,456 g/cm3is. Welded all types of welding. Used for the manufacture of cylinders working under pressure
Mechanical properties (20°C)
| | | | | | | |
| --- | --- | --- | --- | --- | --- | --- |
| Assortment | GOST | blower SB | d5 | y | KCU | Heat treatment |
| - | | MPa | % | % | kJ / m2 | - |
| Sheet | 22178−76 | 835 | 10−12 | | | Annealing |
| Sheet | 22178−76 | 980 | 8 | | | Quenching and artificial ageing |
| Rod | 26492−85 | 755−935 | 6−9 | 15−22 | 250−300 | Annealing |
| Rod | 26492−85 | 1030 | 4 | 14 | 250 | Quenching and aging |
| Bars high quality | 26492−85 | 755−980 | 7−10 | 22−30 | 400 | Annealing |
| Bars high quality | 26492−85 | 1030 | 6 | 20 | 300 | Quenching and aging |
blower SB — the ultimate short-term strength
d5 — elongation at break.
y — the Relative narrowing
KCU — Impact strength
Supply
Supplier of titanium alloys offers only certified products. Technical documentation has all the information about chemical composition, % impurities, the mechanical properties of titanium sheets. We can buy circle, rod, sheet, VT6S: at a reasonable price. You will be satisfied with the quality and price of titanium alloys. Wholesale buyers of the company Electrocentury-stalmost buy VT6S titanium products from discount discount.
Certification
All products from our company passed the certification. In the technical documentation included data on composition, mechanical quality and content of impurities.
Buy price from the supplier
Circle, rod, sheet, VT6S: from supplier Electrocentury-steel can be purchased wholesale or retail. On the website reflected the price and mix of products to date. Excellent product quality and reasonable price — face provider Electrocentury-steel. Regular customers can buy titanium products using the discount system of discounts from the supplier Electrocentury-steel. Delivery is carried out from warehouses located in Russia and Ukraine.