Babbitt, solder, tin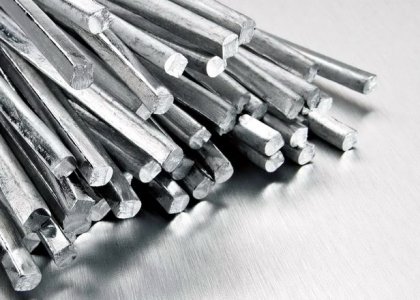 Babbitt
This is an alloy with high antifriction properties. It consists of 2 basic elements: tin, lead. It is used for casting of moving parts or sputtering on the body of bearing shells. The melting point of this alloy is about 300-400 ° C. The most common compositions are 10% copper + 90% tin, or 89% tin, 4% copper and 7% antimony.
Use
Tin babbitts - B88, B83, B83C, SAE11, SAE12, ASTM2 with high viscosity significantly reduce friction. Tin babbitts are more wear and corrosion resistant and conduct heat better when compared to lead alloys. But lead babbitts - B16, BN, BSb, BKA, BK2, BK2Sh, SAE13, SAE14, ASTM7, SAE15, ASTM15 are more heat resistant. They are relevant in rolling mill bearings or diesel engines.
A common disadvantage of babbitts is their low resistance to fatigue loads, tendency to crumble on impact or vibration, which makes it difficult to operate moving parts. Due to their low strength, babbitts are cast only in bearings with a solid steel or cast-iron housing. The service life of moving parts is inversely proportional to the thickness of the babbitt layer on the steel bearing liner. The thinner the babbitt layer, the longer the bearing will last.
Solder
A solder is a low-melting-point metal or alloy that is used in soldering (connecting) parts to one another. It has a lower melting point than the metals to be joined. Soldering creates a mechanically strong and leak-proof joint. During soldering, the solder spreads over the metal and fills all the voids and gaps between the parts being joined. When buying solder, take into account the properties of the metals being joined, the expected strength of the solder, its cost. To solder current-conducting parts it is necessary to pay attention to the specific conductivity of the solder.
Tin
Tin is most commonly used as a non-toxic and safe coating and is resistant to corrosion in its pure form or in alloys with other metals. The main uses of tin are in the manufacture of tin-plated iron and food containers. Sometimes it is used as an additive to solder for electronics and pipeline repair. The most common is an alloy of tin and copper - bronze. Tin and its alloys are used to make cookware, packaging foil, wiring, and much more.
Tin is a major alloying component in the production of structural titanium alloys. Tin is also used in chemical current sources as an anode, for example: manganese-tin element, mercury-tin oxide element. Promising use of tin in lead-tin batteries.
Buy at best price
Evek GmbH stocks a wide range of standard and non-standard rolled metal products. Our representative offices are located. You can make a purchase without leaving your office, for example, online through the Company's website. All you need to do to buy is to place an order and click "buy" button. Today it is easy to buy non-ferrous metals both as scrap and waste. If necessary our managers can consult you on any current issues. Lead times for orders are minimal. Preferential discounts are available for bulk purchases.