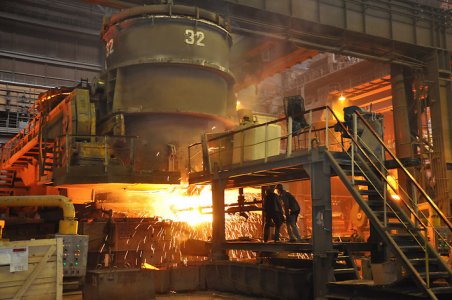 Kirovohrad branch of Uralelectromed has completed the scheduled repair of furnace No. 1. In General, «Production of polymetals» spent work more than 77 million rubles. According to experts, the repair of the shaft Assembly represents a full parse. Thereafter, the furnace must be built literally from scratch. As a result, furnace replaced mine, and napylenie of the furnace top, the cyclone and the duct to it. The cyclone is a device for cleansing gases from solid particles. Considerable work has been done in relation to the replacement of flues.
In the framework of the overhaul treatment was subjected to the largest flue connected to the chimney 140 meters in length. Its diameter is 3.6 meters, the repair area has reached 27 meters. A distinctive feature of the duct repair was the replacement of the brickwork, located on the inner side. Instead it was used epoxy resin Derekan. Due to the high anti-corrosion characteristics of the manufacturers willing to use this substance in the industrial sector.
In the past the protection of the flue provided the bricks. However, this approach has reduced inner cross-section of equipment at the same time slowing the removal of gases. The use of innovative resin Derekan provided the opportunity to reduce insulation thickness. Previously, the coating in its thickness reached 300 ml, and now the figure is only 2 mm. the flue increased throughput. In the course of repair work specialists have produced and installed more than 320 tons of metal constructions. The share of caissons has 12о tons.
The duration of the round-the-clock repairs amounted to 28 days. The repair involved more than 200 branch employees and contractors. Today, «Production of polymetals» cycle to work three furnaces. Their total capacity reaches 6,000 tons of copper matte per month.