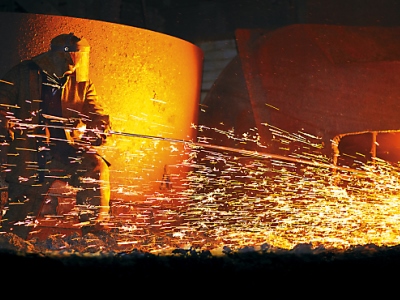 In Lipetsk will construct a factory for the manufacture of metallurgical briquettes. Announced production capacity to reach about 700 thousand tons of products per year. This facility will allow the company to reduce the cost of iron and the impact of production on the environment. It is also planned to establish manufacturing of raw materials for blast furnaces from industrial waste. To work at the factory will involve more than 200 specialists.
In the smelting of iron in the form of raw materials used iron-containing briquettes. For their manufacture will be applied by the extrusion method. Consist of the briquettes will be from the blast furnace dust and sludge, and iron ore concentrate. The new technology will help reduce the cost of cast iron 2%. This will be possible by reducing the consumption of expensive materials. In particular, 9% will decrease the use of iron ore pellets, and 3% coal coke. Plant management claims that such technology will allow to reduce the harm caused to the environment of the city. This is due to the high environmental benefits of using briquettes for iron production. Also the factory would be equipped with high-tech dust — and gas cleaning equipment. These are the best, at the moment, the technology will significantly reduce malicious emissions to 5 mg/Nm3. In addition, it is reported on the development of a number of other projects for the reuse of industrial waste.
The construction process takes place on-site concrete plant. This shop has for some time been decommissioned. At the moment is the construction of the Foundation. Work is scheduled to be completed by the end of next year. Total investment in the construction of this facility in Lipetsk is about 2.8 billion rubles.