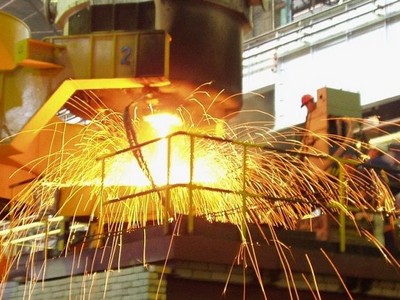 At the moment the company is building a site for downloading and submission of materials. This element will be equipped with hopper of reception. The construction is carried out on-site training ore and the factory itself. At the moment, raw material stock factory equipped with five such nodes. The sixth key element should be the final step in the inventory of construction activities. It is produced in accordance with the expansion plans of the company. In addition to the hopper for receiving raw material feeding unit also includes a plate feeder. This device is designed for uniform receipt of raw materials onto a conveyor belt and processing.
The first stage in processing ore is not that other, as the boot node. Its construction will speed up the process of unloading the raw materials. And also reduce the time spent by trucks at the plant. The receiving hopper is equipped with a metal grid to sort and oversized rocks. Cell, the iron bars have a size of 350 by 350 mm. Large pieces of rock will be broken hammer. This device is also in the hopper. The launch of the new facility is planned for the middle of the second half of this year. Currently the manufacturing capacity of the factory is about 30 thousand tons of raw material per day.
AI works at the moment is implementing the construction of a weight complex. Its main task is in the weighting of finished goods for subsequent dispatch. Limit the weight of the complex will be 100 tons. On the construction and installation project for the extension of the factory planned to spend about 6.5 million rubles.