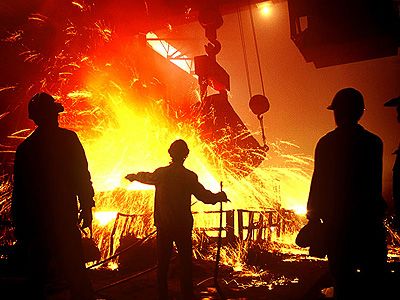 The company decided to make a step to expand the certification management system environmental (EMS).
Approaching the standards ISO 14001:2015 NTMK professionals prepare some of the workshops at SAM. It is assumed that the inclusion in the system shall be the main production and blast furnace shop. For this I developed a program that includes all the information. Namely, the list of events, dates of implementation, project managers. For this was conducted by a highly trained staff that are involved in the conduct. Conducted a review of local standards documents due to the increasing areas of certification. Introduced new documentation for engineering and the environment.
The new system is introduced at enterprises Evraz thirteen years ago. All departments that are involved in steel production as-rolled and billets to meet the standards. All standards and requirements are also consistent with the auxiliary departments of the company.
Within the operation of the SEM at NTMK every year there are some programs for the conservation of nature. For ten years the enterprise was fifteen percent lower discharges of wastewater. The plant regularly monitors water, if necessary upgrading treatment facilities. Last year at the steelworks was formed more than a million tons of waste. At the same time, it recycled more than 2.5 million. This was possible because of the inclusion in the production of previously accumulated waste.
Also in the past year, successfully audited within the framework of re-certification. Confirmed that everything meets the requirements of the standards. The audit firm noted the high level of competence and professionalism of the staff of the plant. Also appreciated their desire to search for methods of development.
Validation was able to confirm that the activities of the enterprise for environmental protection comply with all certification requirements. And not contrary to the policy demands in the environment. The certificate, which was obtained, is valid for three years with an annual confirmation.
The constant modernization of management systems in the ecology improves the position of steel mills in the marketing of products. It will also lead to a gradual reduction of the negative impact on the ecological situation in Nizhny Tagil.