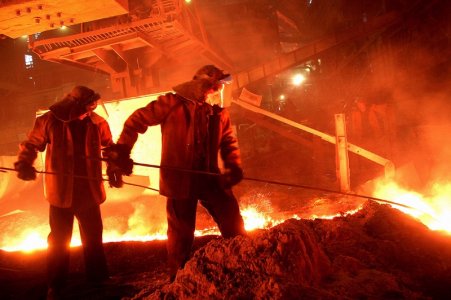 KAZ Minerals announced the results of operations for the first quarter of 2017. In this period there were 52.1 thousand tons of copper. Relative to the last quarter of last year production increased by 16%. Regarding the first quarter of 2016 increased by 130%. This takes into account paid concentrate, cathode copperobtained from Aktogay oxide raw materials. Growth was achieved through the launch OF Aktogay. The operation of the concentrator is directed to the processing of sulfide raw materials. Also growth was observed on the background of increase in the production of Bozshakol processing plant.
The extracted ore amounted to 16.9 million tonnes. Relative to the previous quarter increased by 27%. If we compare the results with the first quarter of 2016, the growth amounted to 59%. Of a specified quantity of raw materials in sulphide ore accounted for 7.7 million tonnes, it was revised at the OFFICE. At Aktogay has been downloaded 4.2 million tons of oxide materials. On Bozshakol stockpiled 5.1 million tons kolonisierung raw materials.
The concentrate of zinc was produced in the amount of 15.5 thousand tons. This figure was expected low relative to the fourth quarter of last year when the result reached 19.2 thousand tons. Cause — temporary reduction of the level of zinc in the ore Artemyevsky mine. Gold production remained at the same level of 42.5 million ounces to 42, thousands of functions of the IV quarter of last year. The increase in development Bozshakol was 2,000 ounces, has balanced the decrease in production in the Eastern region. Production of silver fell by 23% compared to the fourth quarter of last year. The figures were 757 thousand ounces. The decrease was the decline in the level of silver contained in the ore mined by enterprises of the Eastern region. Compared to the first quarter of last year, the figures had improved by 7% thanks to increased production at Bozshakol. Due to the present rate of production, the Group will reach the indicators planned for the current year on all products.
In 2017, KAZ Minerals has planned the production of 225−260 thousand tons of copper. The achievement of these indicators will allow to approach the goal. We are talking about large-scale low-cost production. It is planned that its amount in 2018 to be about 300 thousand tons of copper. Of these, about 80% will be produced in opencast mines.