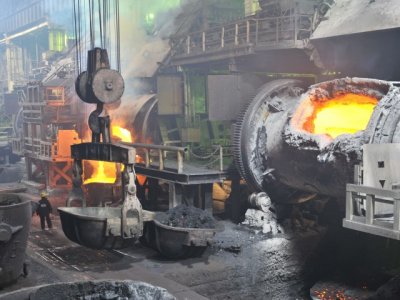 In early spring the position of China in the industry has continued to evolve quite slowly. Even with increasing production volumes, which caused dissatisfaction in the matter of overproduction. Data provided by the Agency Reuters referring to the data analyst, which was held on Friday.
The revival of the steel industry in China is a key engine of the silver champion in the world economy. It gives the opportunity to create the most enhanced profit growth over the past few years.
The index of supply managers in the steel sector in March declined by 0.8 points in comparison with February. However, it is still not below the designation of fifty points. Namely, it separates the growth and decline months, according to the company, Siegele.
2016 factories in China, receiving a small profit multiplied production. This allowed them to use the advantages of increasing the value of the metal and increased profitability. But the number of orders declined by 5 positions, and it is an indicator of rapidly declining demand for products.
The steel prices were expected to fall to four percent, a initial monthly decrease in the winter. Expectations were based on concerns about the predominance of supply over demand.
Stocks of steel products for the first time started to grow in March after a five-month decline. Rising to 6.7 million tons in the winter, they took the highest figure since the summer of 2015. However, in spite of the increase in reserves, production of steel products has accelerated. It reached the maximum point in ten months, becoming 2 positions above.
In the report, Asefapi, it is specified that the supply of steel products by the end of March was 30% higher than the same time in 2016. If the inventory is not quickly put into circulation, the pressure on the goods-producing plants could again become quite high.
Lasting many months, the construction boom has affected the demand for building materials and steel in China. The boom was caused by the increasing real estate market and increasing infrastructure costs. However, fresh restrictions from the government for reducing the activity in the real estate market will weaken demand. According to expectations, it is this weakening will lead to investments and activities of the industrial sector.
To curb speculation in March-April were strengthened restrictions on the purchase of real estate.