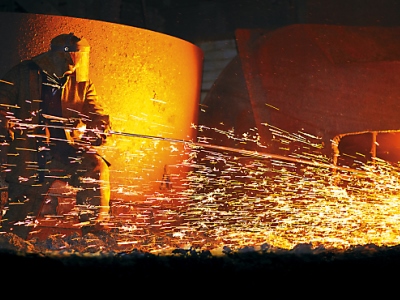 In 2016, the disadvantage of the Ukrainian market of scrap metal will make 585 thousand tons. It is more than 15% of the actual need. This information was given by «Interpipe» — they are a key user of the scrap metal in Ukraine.
According to «Ukrmetallurgprom» for a year without a month in 2016 at the enterprises of metallurgy, was delivered almost three million tons of raw materials. A key reason for the deficit is considered too small workpieces. According to the company, for the last period, the collection dropped to three million tonnes. It's a little more than 20% less than in 2015, and 36% less than in 2014.
Given this situation, «Interpipe» in November for the first time, has purchased the scrap for its steelmaking complex. The opportunity the company gave the removal of the five per cent duty on scrap metals. The change was made in mid-autumn last year.
The quantity of imports from Russia and Moldova did not decrease as in January and February. In addition, there are other options for mitigating shortfalls of materials. Also at the enterprise hope that Ukrzaliznytsia sell scrap metal. According to preliminary calculations, their reserves amount to not less than 400 thousand tons. The sale of raw materials, the situation on the scrap market will be significantly improved.
Simultaneously, ArcelorMittal Kryvyi Rih admit that they have not imported such raw materials. However, companies are quite helpful in the presence of a fee of EUR 30 per ton while the export of scrap metal. According to the Director of the enterprise, their supply has not improved, but have not become worse.
Rostislav Shurma, CEO of Zaporizhstal, also commented on the situation. According to him, the increase in duties on exports of significantly improved deliveries to the enterprise. After this happened the amount of scrap in the warehouse has grown. With 2−3 thousand tons reserves amounted to 60 thousand tons. This allowed the company to survive the most critical period of shortage of scrap — the winter.
It all started with the fact that the Verkhovna Rada of Ukraine adopted two bills affecting the external economy lomozagotovki. Have changed the fees for export and import of scrap. Exports may be subject to fees the amount of 30 EUR/ton. The duty on imports was cancelled. The process of export deliveries considerably simplified. Contributed to process an appeal to the leadership of Watermattress to the Prime Minister of Ukraine. They asked to repeal the law, which was adopted by the Verkhovna Rada on 12 July last year.