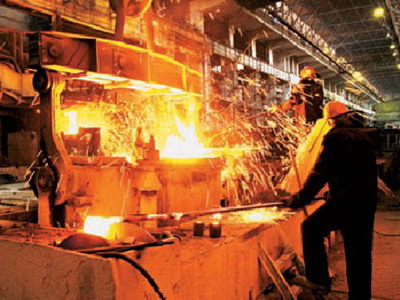 Financial analysts Corporation Commerzbank are preparing this year to increase the price of the metal. According to them, Nickel will increase to 11,000 us dollars per tonne. The danger is that it might weaken the position of Nickel on the market, after imposing a veto on the export of raw materials from Indonesia.
The rapid development of the economy of the United States and China, the weakening dollar has caused an increase in the cost of copper ore. In late autumn, in comparison with indicators of the monthly high of this year, the figures dropped.
A report presented by the Ministry of Commerce of the United States, have shown that domestic, national, gross domestic product for the third quarter of the year rose to 2.9 percent during the reporting period, in annual terms. This, in turn, reflects the positive progress of the economy and policy over the last 2 years. Although analysts and experts of the global edition of The Wall Street Journal claimed that the performance this year will remain at the level of 2.3−2.5 percent.
«Today, the country's gross domestic product has improved indicators of copper on the metals market» — commented on the current situation broker Bob Haberkorn from RJO Futures.
Another reason for the interest in the copper market — the decline of the yuan at a few positions. Because sales agents often use copper in their Arsenal in the process of hedging. The Chinese currency fell to the lowest level six years ago when comparing it with the U.S. dollar.
According to the data released this month on the London stock exchange of metals have been demonstrated with the reduction of copper stock by 1/3. This trend may contribute to an increase in expected demand on colored metal.
According to forecasts, this quarter the copper price rises on the LME at the end of bidding 1.1 percent. In monetary terms, is approximately 4843 US $ per ton.
Betting against Nickel increased by $ 65. Now the total price of the product reached 10 $ 425 per ton. All this occurs while the current year deficit, the Agency reports International Nickel Study Group (INSG).
Financiers Commerzbank is preparing to increase the cost of colored metal. According to experts, the price will be about $ 11 000. Such a development is possible if the situation of Indonesian exports is not complicated, and the Philippines will remain workers.