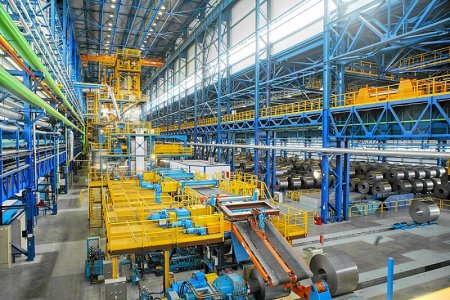 Company «Severstal managed to win the next tender. The company will supply over 500 tons of bimetals to address Volgogradneftemash. The main focus of the customer — the production of technological equipment. It is used in oil, gas, petrochemical industry. Supplier of bimetallic products are Cherepovets steel mill. It consists of the division «Severstal Russian steel». To use the material planned for the manufacture of coke oven chambers. They put the Omsk oil refinery.
The main work will be produced in sheet rolling shop № 2 of the Cherepovets plant. The process consists in surfacing of slabs with electrodes made of stainless steel. After that, the slabs will go on the mill 5000. It is located in Kolpino, in the rolling mill manufacturing tubular steel products. There will be rolling and shipment to the buyer.
The situation said Eugene Chernyakov, is sales Director of «Severstal Russian steel». According to him, produced at the Cherepovets plant bimetal has a high consumer properties. Thanks to this quality two-ply material easy to replace in the domestic market foreign counterparts products. Delivery address Volgogradneftemash is scheduled for September-October 2016. It will be made with rail transport.
Another achievement is getting the «Severstal» the positive conclusion of the expert Commission. It was held in respect of design documentation for the construction of the installation «ladle-furnace». For the Cherepovets metallurgical plant is the second unit. Thanks to him, production of Converter steel production will increase to 10.2 million tons annually. In knocks the volume of steel melting will be 84. The new unit will help in enhancing product quality. This will optimized metallizable and consumption of ferro-alloys. Increase the safety of operation of the converters. Considering all these factors it is possible to count on reduction of production costs. In General, the financial effect of the installation of new equipment will reach over 800 million RUB annually. This was reported by Yuri Fedorichev. He is the chief investment officer of «Severstal Russian steel». It is anticipated that the project will be completed in the fourth quarter of 2017.