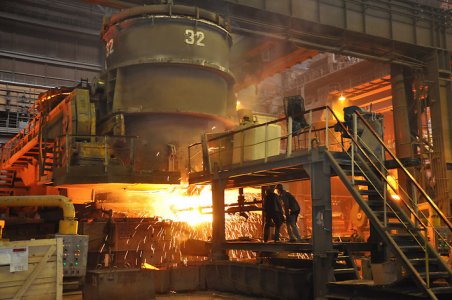 The international audit and consulting company Ernst & Young assessed the activities of the metallurgical sector leaders. Taken together, the thirty largest global groups owe 150 billion. USD. Many of the debts were formed over the past ten years. The reason was the increased competition. In order to increase their own share of the leading manufacturers often buy assets at too high a price. Also not uncommon situation in which a significant investment projects realized by loan funds. The company's specialists noted an important role of China. Since 2000, the country entered into the steel production capacity to work with an annual capacity of 1 billion. Tons. As a result, the global excess capacity has increased to 700 mln. Tons / year. Such projects were embodied in the funds received from external investors. As a result, total debt of the Chinese manufacturers rose to about 500 billion. USD.
Many companies today are actively addressing debt issues. Of ArcelorMittal, the world's largest manufacturer of steel in 2016 will issue rights to shares. Their cost is 3 billion. USD. To cover the company also sells the assets and debt. Sum from the sale today exceeds 1 billion. USD. As a result of the measures to the end of June, the amount of the obligation was reduced to 12.7 billion. USD. According to the results of I quarter results amounted to 17.3 billion. USD. However, the company's experts believe that one of the state support is not enough. It will produce results only in parallel with the radical restructuring of the steel industry. Today, many companies are experiencing significant financial difficulties. Some do and are close to bankruptcy. To exit from the crisis required a more effective scheme of doing business. Also in Western countries expect increasing protectionist sentiment.
In early August, the global market for flat products showed some growth in value. The main source of improvement — China manufacturers. By improving the Russian and Ukrainian producers have expanded the supply. Hot rolled products come to Asia with increased cost. Quotes slightly increased for Turkey, Middle Eastern countries. In the EU, the company also plans to increase in autumn. This optimism is supported by favorable expectations of producers. As for the real expansion of the visible supply, it can not be as rosy.