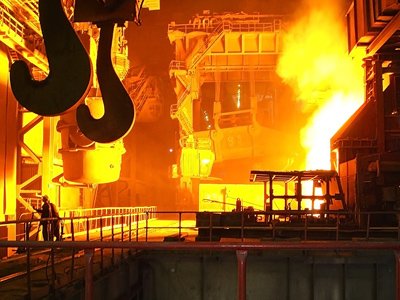 PJSC «Zaporizhstal» started preparing for extensive renovations. It will affect the blast furnace No. 3. The cost of the project will be realized at the level of 1.47 billion hryvnia. The reconstruction will involve the most advanced technology. Information about the project was provided by the press service of the company.
The first innovation involves the development of intellectual models of the reconstructed furnace in 3D. In Ukraine this is the first creation of intelligent models. This approach allows to significantly increase the efficiency of the reconstruction. Plus, the timing of the procedure will be visibly reduced. In the model creation process specialists have analyzed more than 15,000 drawings. For this purpose we used advanced IT technologies. This approach is fully justified. At the planning stage it was identified and fixed over 11,000 bugs.
In accordance with the project on blast furnace No. 3 will have a modern system of aspiration. It will be clean of dust emissions. The cleanup level will be about 20 mg/m3. General Director Rostislav Shurma was a relatively new system. The aspiration system is a necessary environmental component, corresponding to the required European standards. The functionality of the system will be constantly evaluated. For this purpose, automatic control devices, working in online mode.
It is expected the introduction of yet another innovation during the reconstruction of blast furnaces. It will be the way large units of Assembly elements of the new equipment. For this purpose, on the territory of the enterprise have erected a special platform. Each item and design will be assigned to your QR code. This method will allow you to automate and systematize the Assembly procedure. For carrying out Assembly and installation it is planned to attract well-known European companies. On her part for the process is provided by a powerful crane. Its capacity is 1600 tons.
Reconstruction involves the installation of a new blast furnace bell-less device to boot from. Increase the number of tuyere equipment from 16 to 20 units. Be held combined lining. This provides for the use of modern technology. Will be replaced on the reconstructed blast furnace scale car. They will be replaced by conveying the charge-filing. The cooling system will be equipped with copper cooling plants. Beginning of works is planned for early November.