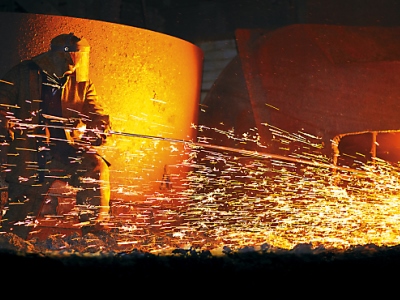 The first quarter of 2016 was successful for the Magnitogorsk Metallurgical Combine. Net profit under IFRS amounted to 157 million. USD. In the IV quarter of 2015 experienced a loss at the level of 125 million. USD. These data were provided by the company's press-service. A positive result was obtained against a background of MMK exchange rate differences. Profits on this item amounted to 25 million. USD. Increased rate and EBITDA. Compared with the IV quarter growth was 4.4%. The result was achieved margin of 27.3%. Net debt was reduced to 929 million. USD. As a result, it managed to provide a ratio of net debt ratio — EBITDA of $ x0,6.
At the same time in 2015 with respect to the net profit of the Magnitogorsk plant fell by 20%. The reduction in free cash flow showed almost 50%. The decrease in revenues was 1/3. The EBITDA fell by 38.9% compared to 2015. Lowering its level reflected the complexity of the current economic situation in Russia. His influence and had a minimum cost of steel products on the world market. The lowest index came in January 2016. Analysts say an improved financial performance. It will be in the II quarter of this year. Growth is possible as a result of the seasonal recovery production consumption. Also, we are talking about leaving the ruble value of the degree of export parity.
MMK actively improving production processes. Plant specialists have developed a way to use the oily mill scale in the sinter production. To date, conducted the installation of equipment for receiving and drying scale. As for the economic effect, the use of 75,000 tons of scale will return on the level of 63.2 million. RUB. After the implementation of the project will pay for itself within 12 months.
Developed a completely new technology. Previously oiled scale at the plant has not been used. At the same time used for the agglomeration scale dry. Its mass fraction of iron is 72%. This is traditionally a decent iron ore. As a result of the 2015 accumulated at the plant oily mill scale has reached 45,000 tons. The average iron content in it was 67.5% at 12% moisture level. The research allowed to choose the best material for mixing. The non-magnetic product is allowed to improve the flowability of the mixture. Also, it contains 23−25% of the total iron. It is also utilized during sintering.