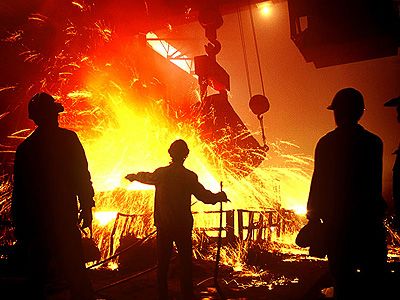 Due to continued weakening RUBлидирующие metallurgical company still wins. The metallurgists continue to rely on public assistance. Its requirements are motivated by the drop in domestic demand. You also mentioned the increase in size of protective duties upon export products. The situation was discussed with the participation of Dmitry Medvedev. Steelmakers have asked the government to refuse to support the creation of new capacity. Also considered export, import. Talked about the need to stimulate consumption of aluminium. These questions raised long ago. However, experts claim that the position of the Russian metallurgists are not so unenviable.
In the past year the situation in the Russian metallurgical sector was not the best way. In 2016, much improvement is not observed. It is possible that the production volumes will continue to decline. According to Dmitry Medvedev, there are a number of reasons, leading to problems. By 2014, the fall in domestic demand reached 9%. The volume of domestic demand in total was 41 million tons of rolled steel. These figures were substantiated by the decrease of consumption in the construction industry by 12%. The fall in demand from the automotive industry amounted to 25%. Another reason is the reduced ability to export. Which is not surprising, given the protective capacity of sanctions on U.S., European and other markets. In 2015, Russia exported approximately 1/3 of the total produced steel. The volume reached 27 million tons. Another reason has affected the sector of nonferrous metallurgy. We are talking about the fall of the global value of metals 20−45%.
This year, the fall in domestic demand may continue. It is not excluded that the decline will be 10% to reach 37 million tons of rolled steel. Such indicators are possible, according to Alexei Mordashov, owner of Severstal. Undoubtedly, the position of the Russian metallurgists more favorable compared to other States. Capacity utilization is higher than other companies, but not high enough. Last year she reached 83%, while the rest of the company showed a 70%. However, in 2016 the figure may fall to 79%. However, the Russian metallurgists are still the most competitive. Moreover starting in 2016, the cost of steel and iron ore increased by 40%. The increase is observed on the background of the temporary growth in demand from China for raw materials.