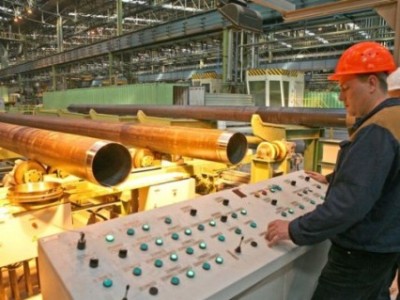 The Russian company TMK is the largest national producer of tubular products. While the IV quarter of 2015 ended for the company a loss. He totaled 371 million USD. Trend was observed on the background of the depreciation of the us assets. The management of TMK is not planning to get rid of American business. Further support will continue. Representatives of the company announced the loss from the depreciated us assets. It reached 352 million USD. From the difference of exchange loss amounted to USD 53 million. Thus in Art the net loss of the company reached 74 million USD. They entered write-offs, losses from differences in exchange rates reached 94 million USD.
The expectations the company had net income of USD 10.5 million. Assumptions did not account for a possible write-off of the difference in exchange rates. Also decreased the company's revenues. Revenue decreased to 913 million USD. The previous figure was 917 million USD. However, before entering into the budget of taxes, depreciation, interest and other adjusted profit reached 155 million USD. The previous result was 125 million USD. In this article, the profitability for the 3 months increased to 17%. The previous result was 14%. Decreased the company's net debt. TMK managed to repay USD 150 million/ By the end of 2015, the debt amounted to USD 2,496 billion.
Company representatives believe that the sales of Russian consumers will remain at a decent level. Quartile in 2016, they are expected to meet the indicators Quartal 2015. However, the company's management does not expect full recovery of American tubular sector until 2017. Despite the difficulties, the Russian company full of optimism.

TMK experts believe that in 2016 will be able to keep sales at the level of 2015. However, this needs to be saved the demand from the large Russian consumer. In the USA the situation is much more complicated. The deterioration observed on the background of falling demand for oil and gas tubular products. The decrease occurred in conjunction with reduced drilling activity. You should also consider a large number of inventory. And imports, the cost of which is significantly lower, playing a prominent role. American tubular sector unlikely to recover until the end of 2017. European pipe sector will see an improvement until the second half of 2016.