Flat nichrome Cr20Ni80 Plushenko - 2.4869 - Ni80Cr20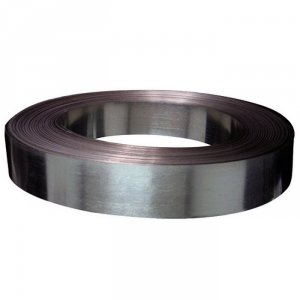 Percentage composition of CR20NI80-H

The alloy consists of Nickel and chromium, additional dopants are contained in minimal quantities. The proportion of Nickel in this material is from 55% to 78%. The chromium content is much lower, from 15% to 23%. In addition, additives for metal are iron, silicon, manganese or aluminum.
| Fe | C | Si | Mn | Ni | S | P | Cr | Ti | Al | Zr |
| --- | --- | --- | --- | --- | --- | --- | --- | --- | --- | --- |
| ≤1 | ≤0.06 | 1 — 1.5 | ≤0.6 | 72.905 — 78.8 | ≤0.015 | ≤0.02 | 20 — 23 | ≤0.2 | ≤0.2 | 0.2 — 0.5 |
Today, Nickel alloys has gained considerable segment of the industrial market. Buy flat nichrome from a supplier Electrocentury-steel in any convenient way: via Internet website or by telephone. Price is the most adequate in this segment of the rental.
Technical characteristics
This alloy, due to its composition possesses some unique properties:
Indicative of the hardness along with good plastic properties, gives the possibility to use this metal to rolling and drawing.
The density of the alloy 8000−8500 kg/m3.
Figure electric resistance 1100−1400 Ohm/m.
Has a high strength, and it is maintained even in extreme temperatures and in aggressive environments.
Due to the high melting point, with a flat nichrome can be applied at 800−1100°C. the chromium Oxide acts as a flat coating of nichrome.
Application
Flat nichrome is used in the production of high-temperature equipment. In particular, it is used for heating elements. Most often, Cr20Ni80 can be found in heaters, furnaces and dryers. Cr20Ni80 is widely used in corrosive environments, due to the heat resistance and chemical resistance. It is used in the production of household appliances: irons, electric stoves, toasters. Use the alloy resistors, resistors in the nodes of the resistance.
To buy, price supplier
Buy flat nichrome CR20NI80 from the vendor Electrocentury-steel can be anyone. On the website reflected the price and range of products on segodnishny day. All products are certified and has a high level of quality. High quality and reasonable price — face provider Electrocentury-steel. Regular customers can purchase a flat nichrome taking advantage of the flexible discount system of discounts. Delivery is carried out from warehouses located in Russia and Ukraine.